Ep 11 – Green Talks with Panchtatwa Girl Ft. Gaurav Mendiratta
During the first lockdown in 2020 what started as a sewa is now a mission. Today on Green talks we have Gaurav who is running Shri Shani Rasoi trust, feeding the poor, hungry, and needy. He started helping and providing food to people in lockdown, especially to those who were not able to resume work and were working as daily wage workers. It was a difficult time and he helped at least provide food to survive.
मरहम लगा सको तो किसी गरीब के जख्मों पर लगा देना,
हकीम बहुत है बाजार में अमीरों के इलाज खातिर.
We all earn money, but have you ever earned blessings? The way to earn blessings is through service (Seva) and devotion (bhakti).

Gaurav has been feeding the hungry since lockdown. He was upset when people had to walk miles and everywhere pandemic bought life to a halt. After seeing many people jobless, as they had lost their jobs to lockdown he decided to provide meals to them. He started a kitchen in his backyard with help of his family members and there began a journey that still continues.


During the lockdown, he used to pack lunch and dinner packets of food be it kadhi chawal, rajma chawal, puri sabji cooked by his family and building members. This was a daily ritual and slowly he started getting positive feedback and even support from more people. Well, that's not all he even has now started a chain to feed the hungry which is called shani Rasoi.
Shani Rasoi
Gaurav himself along with family, friends, building members, and acquaintances is providing food from home as well as via his new initiative – Shri Shani Rasoi. Shani Rasoi has food carts that provide food to the hungry and needy in the North Delhi area.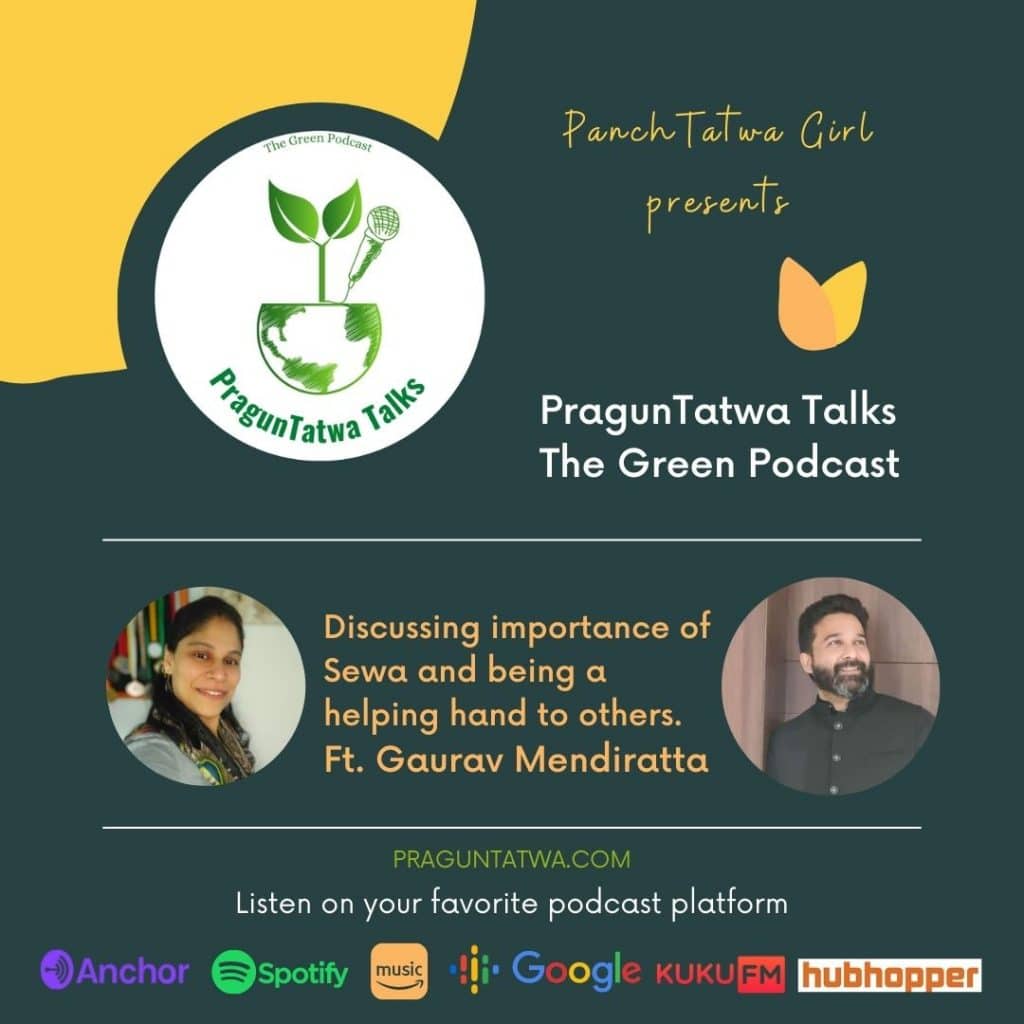 Listen to the episode on –
Coupled with, you can even listen to it on my podcast site – Praguntatwa talks and leave your comments on what you liked in this episode.

Here is the youtube link to the complete episode with glimpses of his sewa.
More on Green talks-
In the light of, eco-friendly talks, do listen to other episodes and bring that one change in your life towards a greener tomorrow.
Episode 1 – Eco-travel
Ep 3 – Know Your plastic
Episode 4 – Rainwater harvesting and manure water
Ep 7 – Importance of disposable plates
Ep 8 – Zero waste and sustainable lifestyle
Along with Eco-friendly talks, I even like to share Positive stories of people bringing a beautiful change to this world. Do read these stories here.