Tilachi Wadi for Makar Sankranti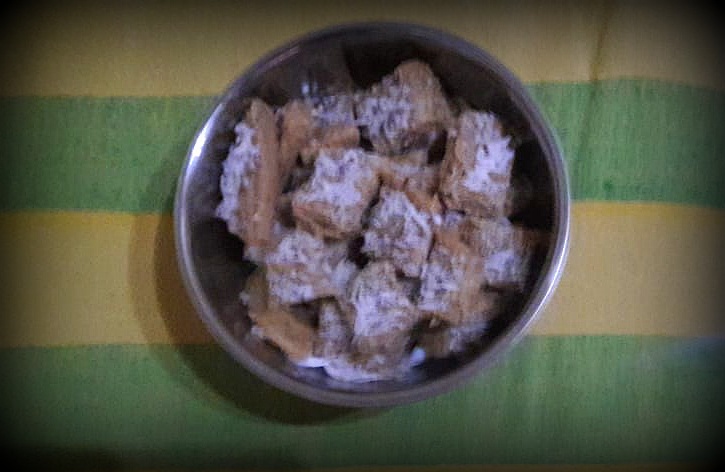 Tilachi Wadi/ Sesame Jaggery Bar
A sweet prepared specially on Makar Sankranti with sesame and jaggery
1/2 cup sesame/ til
1/2 cup desiccated coconut
1/2 cup powdered roasted peanuts
3/4 cup grated jaggery
2 tsp clarified butter/ Ghee
1/2 tsp cardamom powder
1 tbsp dry fruits chopped finely
1/4 tsp nutmeg powder
1 pinch salt
Dry roast and coarse grind sesame seeds. Don't make paste just light grind will do, just to break it in pieces.

Combine the jaggery and the water and then heat it over a low flame until all the jaggery melts. Now add ½ tsp clarified butter/ ghee and stir until it is all well combined. As soon as you see tiny bubbles in the jaggery syrup, take it off the heat. 

Add crushed peanuts, desiccated coconut which is roasted beforehand to this mixture. Also add cardamom and nutmeg powder at this step.

Take a steel plate and grease it with little ghee all over. Now, pour this mixture onto the greased plate or tray, flatten it with the help of a stainless steel spatula or the back of a stainless steel spoon or even you can use the small steel flat bowl for this.

Sprinkle the dry shredded coconut and pat again to get desired and uniform thickness. top it with remaining coconut and dry fruits if using.

After say 4-5 minutes make square cuts in the mixture. Let it cool and then separate into bars or what we call Vadis after 15 minutes.

Til wadi is ready Store in a dry, covered container.
The heating of jaggery and mixing of ingredients needs to be done very quickly as this wadi starts solidifying once all things are mixed.