What if Festive Flavour never ends!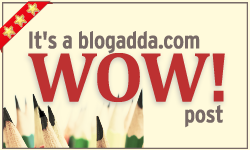 A famous Indian writer puts it "The Greatness of a Culture can be found in its Festivals", and obviously the greatness of an Incredible country like India is seen in the wide spectrum of religions, occupations, vivid and vivacious list of festivals celebrated with sheer enthusiasm and devotion, vivid and diverse cultures, and faiths in the country.
I have experienced the spirit of India in year-round festivals as diverse as the country's landscapes and as lively as its people. Have lived in many part of India in last 11 years and had seen variety of these festivals being celebrated with enthusiasm and different festive colors and flavours. Almost daily we can see some or the other festival celebrated for various Gods, Goddesses, saints, guru's, historical reasons etc. The spellbinding effect of Indian festivals can be experienced by living with them and sharing them.


Since navratri is going on so will start by What if list with this only, Navratri is derived from Sanskrit, meaning 9 nights. So these 9 days and 9 nights and 9 forms of Devi and more than 9 ways to celebrate this season.
Different festivals are celebrated with different names across the world, with much festive flavour rigour with varied flavours and customs.
In Navrartri Where in With all rituals, all 9 forms of Durga are worshipped, my question is why pray only 9 days. What if navrarti is celebrated all year round.
What if we call it Festival when we help and cooperate each other.
What if we call it festival, we celebrate Diwali and when we are able to fill light and warmth in someone else's life be it your long distant relative or friend or any needy for that matter.
What if the spirit of celebration is extended not to just our house but to all those who are in orphanages or old age homes, or we celebrate each day by becoming more forgiving, accepting and adjusting.
In Northern India specially Jammu, Punjab, Delhi, UP, On the first day of Navratri, people sow barley seeds in a small pot which is kept in the prayer room and on the tenth day, these seeds which grow into small shoots are pulled out and given to devotees as a blessing from God. Ghatasthapana or Kalash Sthapana is one of the important rituals which mark the beginning of Navratri. The towering effigies of Ravana symbolizing the evil are burnt with fireworks marking evil's destruction.

What if this sowing is done all year round and no food is wasted, people become more aware of the trouble taken my our farmers and respect that. What if no farmer takes his life and is given his due credit without corrupting forces taking away his due. What if all bad and negative energies are burnt.
Nine small girls are worshipped as the symbolic representation of Goddess Durga which are also called as 'Kanya punjan' or 'Kanjak'. On the 9th day, these girls are worshipped and are offered some gifts and delicious food like halwa, puri and chana. Let this not stick to only 9 days but girls/ devi/ females be respected and valued all year round and in every household.
In Bengal, it is celebrated as Durga Puja, huge ceremonial pandals are decorated and visited to worship Goddess Durga, along with number of programs such as folk songs, bhajans etc. On the 10th day Bengalis submerge the idols of goddess Durga in water for dissolution and a goodbye.

What if the celebration goes on to feed the poor in addition to festival, What if this greatness of feminism continues all year round. What if victory of truth prevails all around and there is no crime or corruption. It is festival in real sense when/ what if no girl child/ female fetus/ no durga is aborted.
In Maharashtra, it's known as Vijayadashmi, where goddess Durga for the nine days of Navratri and Goddess Saraswati is worshiped on Dussehra. People consider it an auspicious day to start something new, also it's indicative of the end of the exile of the Pandava and their return with their weapons to reclaim their kingdom. In memory of this epic story, people in Maharashtra worship the implements of their professions and distribute the leaves of the Shami tree as gold and express their goodwill.
What if this energy and enthusiasm continues in each and every field of life. What if such similar leaves give warmth, health, happiness, joy to to everyone.
In Gujarat, the festival is celebrated as the dance festival, Garba & Dandiya Raas is performed by enthusiastic devotees throughout the nine days.
What if the same energy is in every human for each other and spreading similar energy to those in need. What if No girl/ lakshmi has to beg for her life or survival.

What if we celebrate festivals whole year but instead of just celebrating them on specific dates and days lets make it an year round affair.
In Tamilnadu, it is called Golu, 100s of idols are bought and various settings that portray our culture and heritage. These idols & dolls are arranged in wood/steel stair specially built for this purpose. It is like a mini-museum at home. Dolls are arranged at homes, shops and temples and some give them theme like talking about mythology or lives during ancient times. These dolls give people an audience. It is called `Kolu` which means giving audience in the royal court. Music and dance festivals are organised in temples as well as by sabhas (music clubs). In several villages of South Tamil Nadu, Pulikali (tiger dance) is performed. Performers paint themselves like tigers in bright yellow, red and black, and dance to the beats of instruments.
What if knowledge is spread all year round to give this valuable information to future generations to come as kids these days are not aware of rich culture and heritage for which India is known for.
What if No girl/ Kali is weighed on scale of her color, fairness or beauty.
What if No daughter-in-law/ bahu or parvati is sacrificed or tortured for dowry
Mysore Dasara, the royal festival depicting the triumph over evil, is of legendary splendour. It dates back to the Wodeyar dynasty. Dasara is observed as the state festival. It has been celebrated with pomp and pageantry since it is steered by the royal family of Mysore.
What if No girl/ Sita has to suffer in silence or is abused/ tortured/ or becomes victim of physical violence.
In Kerala, the Durga Puja has gained a secular colour, and all thanks to the Vidhyarambam (beginning of learning) performed on the last day of the 10-day festival, where children are initiated into learning. They start to write the alphabets on rice or sand.
What if No girl/ saraswati is stopped from going school in whole India.
What if everyone is careful and there are no accidents, the road will also celebrate it as festival.
What if no trees are cut, I'm sure the forest will celebrate it as tyohar.
What if every human becomes more responsible, disciplined and punctual individual
What if everyone understands that daan utsav is not only for few but for everyone to give anything one can be it time, resources, knowledge, skill anything. Even one piece of clothing or few hours of one's skill or time is also being part of this giving tyuhar, daan utsav of India. I'm proud of celebrating this festival and would request you all to celebrate together. For me a smile which I can give, and satisfaction I receive in helping is festival.
किसी की अंधियारी ज़िन्दगी को रौशनी से भरना है त्यौहार
समय पैसा या ज्ञान जो संभव उसका दान है त्यौहार
साथ मिलजुल कर हाथ बटा कर
समय जो बीते समझो ये है मित्रता का त्यौहार


'This post is a part of Write Over the Weekend, an initiative for Indian Bloggers by BlogAdda.'