Ep 17 – Green Talks with Panchtatwa Girl Ft. Amita from Bharti Reuse Studio
Every day, we humans drape our bodies in fabric. It can be cotton, silk, or synthetic and a large variety is available in the market.  But we have rather little thought to the contents of those materials. Not only this, we are not even aware of what happens to these pieces of clothing when we discard them or throw them and they clog the landfills. I feel Fast fashion is leading to a mountain of clothing being thrown away each year which has a huge impact on the environment, so the question is can we turn our unwanted garments into something useful? Fabric reuse and recycling is one way where we can put discarded fabric/ clothing to better creative use.
In this episode of Green Talks, we have Amita from Bharati Reuse studio, who believes in reusing and recycling fabric. She makes creative and innovative stuff with this fabric and gives the fabric a new life. 
Bharti Reuse Studio
Amita is a budding entrepreneur and her startup aims to add further life to fabric discards, and leftovers by making fashion accessories like tote bags, pouches, organizers, quilts, etc. She started her professional career in the software industry working as a Business Consultant for clients in financial services, retail, manufacturing, and government sectors.  Life at crossroads was the starting point to choose to work on her grandmother Bharathi Reddy's handbook of sewing practices. Knowledge sharing of those practices with interested women and experimenting with leftover fabric paved the way for Bharati Reuse Studio which works on fabric that would have otherwise gone to landfills. Being a yoga trainer helped her to shift the patterns of sewist freelancers to get more productive, thus contributing in a better way to society and also to their families.  This community is formed to work on the vision of reducing fabric waste reaching landfills, giving more sustainable choices to consumers, and supporting each other by sharing good practices. Her team is trying their best to keep fabric discards to good use.
You can check her products on bharatis.com 
Instagram 
Facebook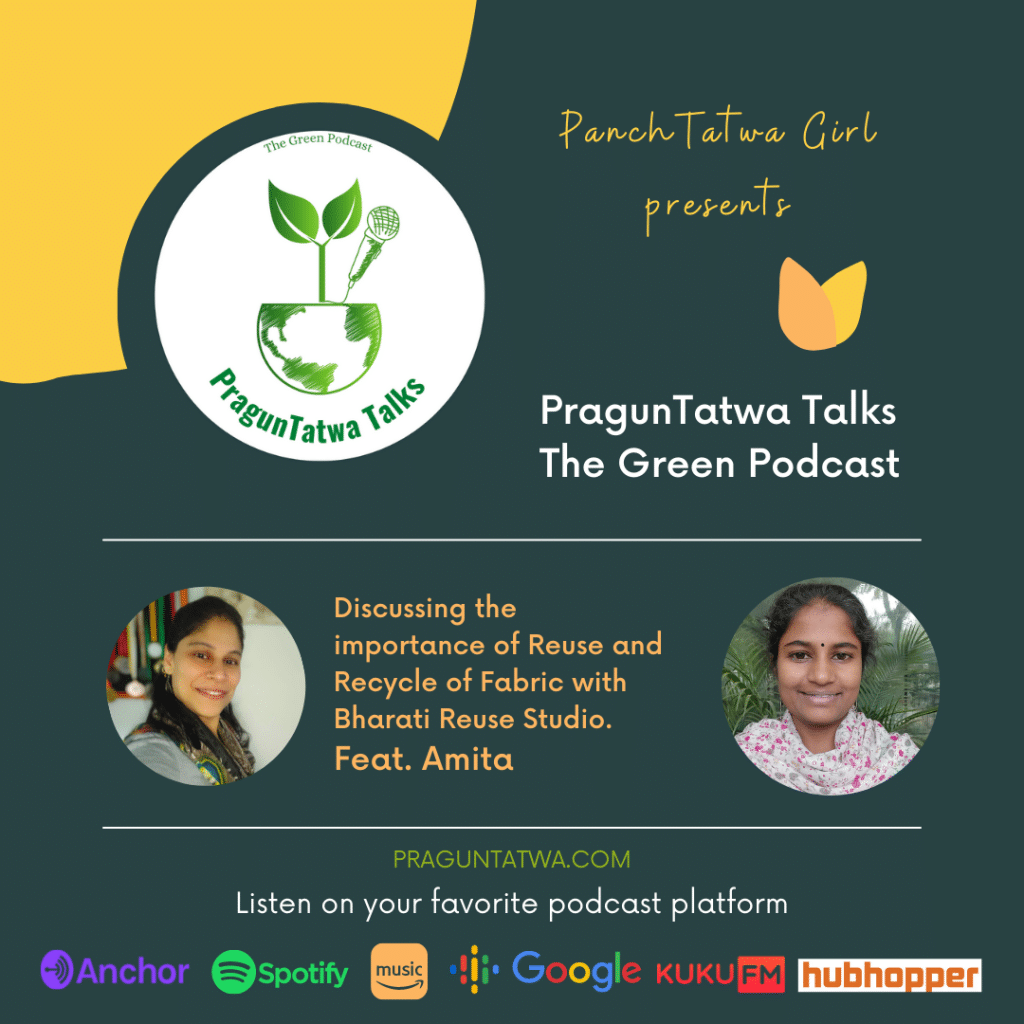 Fabric Reuse
Fabric and other textiles do not have to be thrown out in the trash; after all, they're not really trash. Fabric can actually be recycled and reused several times — it can also be donated so it can be given the chance at a second life in someone else's wardrobe. Reusing the fabric in old clothes means fewer resources, both monetary and environmental, are wasted in growing fiber for new ones. Use your creativity to breathe new life into old clothes. Customization is a fun way to create something unique and one-of-a-kind — plus it's a fast-growing fashion trend.
Products made from Fabric Reuse 
Bharti reuse studio has fashion accessories like tote bags, pouches, organizers, quilts, etc. 
Bharati reuse studios keep your emotional connection with fabrics, yes a few clothes that are passed on from generation to generation may not be used the same way but can be re-designed in another way to keep the emotional value to it. Amita and her team have redesigned a set of old cotton sarees to the quilt which gives the warmth and care of their family to the customer. Have a look at the options that can be of fabric instead of plastic.
Listen to the episode on –
More on Green talks-
In light of, eco-friendly talks do listen to other episodes and bring that one change in your life towards a greener tomorrow.
Episode 1 – Eco-travel
Ep 3 – Know Your plastic
Episode 4 – Rainwater harvesting and manure water
Ep 16 – Good Earth Ambassadors
In addition, You can even listen to the episode on my podcast site praguntatwa talks, and leave your comments on what you liked in this episode. Along with Eco-friendly talks, I even like to share Positive stories of people bringing a beautiful change to this world. Do read these stories here. You can also listen to it on my podcast site – Praguntatwa talks.